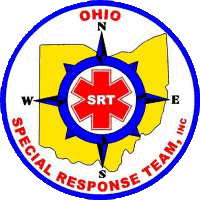 Perform Aid to Civil Authorities
OSRT is an Ohio EMA ESF-9 Search & Rescue Team
But we do MUCH more!
INTRODUCTION
Our Nation and the world are not the same as they were 50 years ago. Natural disasters seem more prevalent and the possibility of terrorist activity has increased dramatically. There is a real need for trained professionals that can respond to unfortunate events when they occur. OSRT was formed to meet the challenges posed by our changing world.
OSRT NEVER SELF DEPLOYS
and there is
NEVER A CHARGE FOR OUR SERVICES.
MISSION
The Ohio Special Response Team (OSRT), Incorporated is a broad based response unit able to respond to a variety of emergencies and disasters in support of the civil authorities. Possessing a range of skills increases the value and versatility of the unit to the civil authorities. Members of the unit are trained to rigid standards in a number of skills to assure they can accomplish the assigned tasks(s).
PURPOSE
1. Maintain a well- trained volunteer force capable of supporting civil authorities with professionalism and integrity.
2. Support local, State, and Federal authorities in the event of natural and/or man-made disasters or emergencies.
3. Provide assistance to the authorities relating to non-disaster situations and/or incidents.
4. Conduct training programs in subjects related to emergency response incidents and/or situations.
5. Offer educational courses to the general public relating to the mission of the organization.
​
VOLUNTEERS ARE NEEDED! JOIN THE TEAM!
Would you like more information about OSRT or would like to volunteer? Complete the box on the right and send.
​
597 PARK AVENUE EAST RD
MANSFIELD, OH 44905
419-528-0041
"WE DO NOT SELF DEPLOY. We only respond to emergencies when contacted to do so by an official with the authority having jurisdiction of the emergency, (OEMA/Local County EMA, Sheriff, Local Police and/or Fire Chief,)
​​
Emergency Deployment Request Contact Information:
Elvin Burnell-Liaison Officer-419-512-3709, ewburnell@gmail.com;

Dennis Breen-Commander-419-564-3505, dhbreen2015@gmail.com

Tim Durbin-Operations Chief-419-612-5966, timdurbin00@aol.com
​​
597 Park Avenue East Rd.
Mansfield, OH 44905​
​
Official Mailing Address:
OSRT
POB 1176
Mansfield, OH 44901-1176
Opportunities For Everyone
OSRT OPERATIONAL UNMANNED AERIAL SYSTEM (UAS)
​
Article by Elvin Burnell, OSRT Commander
In November OSRT became operational with an UAV. The project to obtain an UAV began over a year ago when we started discussing the possibility of utilizing an UAV in search operations. The thinking at that time was that an UAV might enhance our capabilities in locating a subject(s) more quickly (with an UAV).

Our first hurdle was navigating through the maze of regulations and information published by the FAA. This was truly an educational experience. We eventually determined that we had to apply for a FAA 333 exemption. We submitted the request for the 333 exemption in January 2016 and the request is still pending – one can't be in a hurry to receive the exemption. The other thing we quickly came to realize was that the directives on UAV's is very fluid – the regulations are changing almost monthly. FAA released directive 107 early this year which opened the door for the opportunity to fly a UAV for search and rescue. Fortunately we had the capability to meet the requirements of this new directive. We then obtained a quote for the equipment from an Ohio vendor.
​
We submitted an application for a grant and subsequently received funding for 85% of the project. The funding for the other 15% came from a variety of sources. Towards late summer we placed our order for an Unmanned Aerial System. The system included the primary equipment needed to support the UAV. We ordered a DJI T600 Inspire 1 Quadcopter, a high definition camera, and a thermal imaging camera. The equipment arrived this fall and several thousand dollars in additional support equipment and insurance were purchased.

We established a training program for members who will be operating the UAS. To fly the unit requires a four member crew – FAA rated pilot, camera operator, observer/spotter, and image analyst. In October we conducted a one day training for the members who will fly the unit. The vendor of the equipment was present to show our members how to operate the equipment.

Then in November we held a training session on how to utilize the equipment in search and rescue mission.
​
We were very fortunate to have a guest with over 30 years' experience with UAV to conduct the training on using the equipment on a search mode and how to analyze the images taken by the cameras. Chris is a recognized expert on the utilization of UASs. He has many years of experience within the military and as civilian contactor in working with UAVs. His presentation on using analytical methods to evaluating images taken by the cameras proved to be very beneficial. We are certainly looking forward to future training sessions with Chris. The ability to analytically interpret the camera images is critical to the successful deployment of the UAS. Refer to pictures of the IAS.

OSRT members are looking forward to deploying this new technology on search operations.