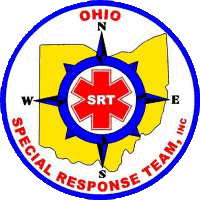 Perform Aid to Civil Authorities
OSRT is an Ohio EMA ESF-9 Search & Rescue Team
But we do MUCH more!
Unit Locations
We have 7 units throughout the state of Ohio where you can meet and train, with new units forming all the time. Most units meet and train together monthly. All units of the Ohio Special Response Team (OSRT) get together for Field Training Exercises (FTX), specialized training, fundraising, and other events.
Headquarters
Commander Dennis Breen
597 Park Ave. East Rd.
Mansfield, OH 44905
419-528-0041
osrtinc@yahoo.com

Unit 1
Richland County
Cpt. Dale Thompson
419-512-6596
Mansfield, OH
Unit 2
Wyandot County
Cpt. Cletus Payne
419-309-1970
Harpster, OH

Unit 3
Stark County
Cpt. Alan Plastow
330-871-9445
Canton, OH

Unit 4
Warren County
Cpt. William Menker
937-554-0502
Brookville, OH

Unit 6
Delaware County
Lt. Matt McFadden
412-651-4901
Jennifer Stokes
614-597-1782


Unit 7
Geauga County
Lt. Jeremy Artzner
216-339-4373
"WE DO NOT SELF DEPLOY. We only respond to emergencies when contacted to do so by an official with the authority having jurisdiction of the emergency, (OEMA/Local County EMA, Sheriff, Local Police and/or Fire Chief,)
​​
Emergency Deployment Request Contact Information:
Elvin Burnell-Liaison Officer-419-512-3709, ewburnell@embarqmail.com;

Dennis Breen-Commander-419-564-3505, dhbreen2015@gmail.com

Tim Durbin-Operations Chief-419-612-5966, timdurbin00@aol.com​
​
Official HQ E-Mail/Physical Address: osrtinc@yahoo.com;

597 Park Avenue East Rd. Mansfield, OH 44905​
​
OSRT
POB 1176
Mansfield, OH 44901-1176