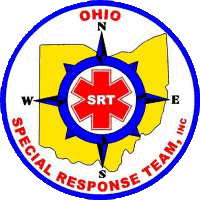 Perform Aid to Civil Authorities
OSRT is an Ohio EMA ESF-9 Search & Rescue Team
But we do MUCH more!
Join Our Team
Individual with more than minor traffic violations need to go no further.
Thank you for your interest in becoming a member of Ohio Special Response Team (OSRT).
Are you at least 18 years old?

Can you pass a criminal background check?

Are you reasonably good health?
If you answered yes to all the above questions, we would love for you to take the following steps to join our team. Applications can be processed for positions in the Command and General Staff, Technical Support, and at the unit level. We also have positions for non-support members that do not require competency or qualified team training. If you have a desire to serve we have an opportunity for you. If you have any questions call 419-528-0041, leave a message and your questions will be answered as soon as possible.
​
Step 1 – Why Join Our Team
Joining OSRT is a commitment to both you and to our local and national emergency response capability. Members of OSRT are considered to be among the best of wilderness search and rescue. With this come pride, respect, and a specialized knowledge not obtainable in any other arena. Below are what we feel to be the top reasons to become a member of our special team.
Opportunity
You will have opportunity to networking with highly skilled individuals that have similar interests.
Support
You will give support to individuals, family, and community before, during and after an unfortunate event.
Readiness
You will be able to ensure that you, your family, and your neighborhood are ready when an unfortunate event occurs.
Training
You will receive training and become certified by highly skilled and capable instructors.
​
Step 2 – Application Process
There is some cost involved in membership.
Application Fee & Annual Dues (helps to cover insurance costs)

Uniform & Personal Equipment

Most training is free but some have fees

If you are applying as a K-9 Handler, complete the K-9 Application
​
Please download and print the applicable membership application forms. After completing the forms attach any pertinent certifications for previous training and mail to:
​
OSRT, INC.
Admin Officer
PO Box 1176
Mansfield, OH 44901-1176
​
OR turn in to a current OSRT member
​
Step 3 – Criminal Background Check
A background check is mandatory per the Ohio Revised Codes. Potential members must obtain, at their expense, a Bureau of Criminal Identification and Background Check (BCI) through their local police or Sheriff Dept.
​
Step 4 – Assignment
Once the BCI background check has been completed and received by OSRT, the respective Unit Commander that you will be assigned to will be contacted.
​
Step 5 - Basic Competency Training
After you background check has been received by OSRT and you are accepted into membership, you will be assigned a personal identification number (PIN) and then you will begin your training. Your Unit Commander will provide you with the training matrix and how to begin.
​
Please note: All or some of the forms listed below may require a signature or initials.
Original signed and/or initialed forms must be mailed to our POB address. This assures legality of the forms submitted by the applicant.
Missing forms or incomplete forms without applicable signatures or initials will not be accepted for processing until completed.
All application forms are subject to a clean BCI prior to processing.
​
*Mandatory Forms Listed below and a Tetanus Shot record.
​
**Optional Forms
​
​
*Vehicle Safety Checklist